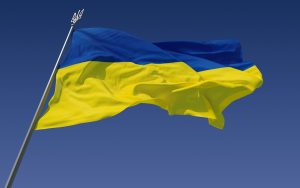 Ukraine is a country in Eastern Europe. It has an area of 603,628 km2 (233,062 sq mi), making it the largest country within Europe.Ukraine borders Russia to the east and northeast, Belarus to the northwest, Poland, Slovakia and Hungary to the west, Romania and Moldova to the southwest, and the Black Sea and Sea of Azov to the south and southeast, respectively.
The territory of Ukraine has been inhabited for at least 44,000 years & is the prime candidate site for the domestication of the horse and for the origins of the Indo-European language family. In the Middle Ages, the area became a key center of East Slavic culture, as epitomized by the powerful state of Kievan Rus'. Following its fragmentation in the 13th century, the territory of Ukraine was contested, ruled and divided by a variety of powers, including Lithuania, Poland, Austro-Hungary, and Russia. A Cossack republic emerged and prospered during the 17th and 18th centuries,
Ukraine remained divided until its consolidation into a Soviet republic in the 20th century, becoming an independent state only in 1991. Ukraine has long been a global bread basket because of its extensive, fertile farmlands. In 2011, it was the world's third-largest grain exporter with that year's harvest being much larger than average. Ukraine is one of the ten most attractive agricultural land acquisition regions. The country also has a well-developed manufacturing sector, particularly in aerospace and industrial equipment.
Ukraine is a unitary republic under a semi-presidential system with separate powers: legislative, executive, and judicial branches. Its capital and largest city is Kiev.
Since the dissolution of the Soviet Union, Ukraine continues to maintain the second-largest military in Europe, after that of Russia, when reserves and paramilitary personnel are taken into account.
The country is home to 45.4 million people, 77.8% of whom are ethnic Ukrainians, a sizable Russians minority (17%), as well as Romanians/Moldavians, Belarusians, Crimean Tatars, and Hungarians.
Ukrainian is the official language of Ukraine; its alphabet is Cyrillic. Russian is also widely spoken. The dominant religion in the country is Eastern Orthodox Christianity, which has strongly influenced Ukrainian architecture, literature and music.
Population
Currency
Language
Time Zone
Time zone
Internation phone code
The population of Ukraine goes up to 45,373,000 people. Ukraine is the 30th most heavily populated country among 183 countries which have published population information. The female population is larger, with 24,528,252 women, representing 54.05% of the total, compared to 20,961,348 or 46.19% men. Ukraine shows a moderate population density, with 75 people per square km.
The Ukrainian Hryvnia is the currency of Ukraine. The currency code for Hryvni is UAH, and the currency symbol is ₴
The official language of Ukraine is Ukrainian, an East Slavic language which is the native language of 65% of Ukraine's population. Russian is the native language of 33% of Ukraine's population and the rest (2%) are native speakers of other languages. Ethnologue lists 40 minority languages and dialects; nearly all are native to the former Soviet Union. According to Article 10 of the Constitution of Ukraine the state has an obligation to ensure the comprehensive development and functioning of the Ukrainian language in all spheres of social life throughout Ukraine while guaranteeing the free development, use and protection of the Russian language and other languages of national minorities of Ukraine.
Eastern European Time Zone (UTC+02:00) Ukraine, Time zone
Ukrainians are an East Slavic ethnic group native to Ukraine, which is the sixth-largest nation in Europe. The Constitution of Ukraine applies the term 'Ukrainians' to all its citizens. Also among historical names of the people of Ukraine Rusyns, Cossacks, etc. can be found. According to some dictionary definitions, a descriptive name for the "inhabitants of Ukraine" is Ukrainian or Ukrainian people. Belarusians and Russians are considered the closest relatives of Ukrainians, while Rusyns are either considered another closely related group, or an ethnic subgroup of Ukrainians.
The Ukraine country code 380 will allow you to call Ukraine from another country. Ukraine telephone code 380 is dialed after the IDD. Ukraine international dialing 380 is followed by an area code.
Important Notice: NO FREE ADMISSION LETTER , AND FREE SCHOOL - DONT ASK FOR SCHORLASHIP - WE DONT HELP TO MAKE INTERNATIONAL PASSPORT.
THE Tuition fee Grand Total is payable When you arrive except ADMISSION + Courier + VISA SUPPORT LETTER FEES to send the original invitation letter through DHL, TNT, FedEx or EMS. The Above amout payable through bank transfer swift or western union/ money gram , parfect money , paypal or bitcoin . Transaction fee paid by the student sender so that we receive full amount.
Mind you No hidden or extra expenses, above fee total package is for the cheapest tuition fee and accommodation at ((Ukraine government university)) . The fee total package will be considerably high in other universities.
OUR COMAPANY - STUDYINUKRAINE.SITE cooperate with only (((UKRAINE State Owned,- UKRAINE National and Worldwide recodnized universities of Ukraine. Above total package is for a recognized Techcal university with cheapest fee and miscellaneous expenses .FOR THE FIRST YEAR ONLY.
WARNING - OFFICIAL NOTICE FROM ADMIN TO STUDENTS ARROUND THE WORLD PLEASE DO NOT TRUST ANY FIRMS OR UNIVERSITIES IN UKRAINE INVITING AND GIVING/OFFERING FREE ADMISSION OR INVITATION AND LATTER ASKING FOR 100$ FOR DHL - TNT, FedEx or EMS , THEY ARE USING THIS TO CHEAT AND TRAP STUDENTS AND WHEN STUDENTS ARRIVE TO UKRAINE THEY TAKE HUGE AMOUNT OF FEES FROM THEM INCLUDING – THE ADMISSION FEE THEY ARE CLAIMING IS FREE AND EVEN THEY TAKE 3TIMES OF THE NORMAL TUITION FEES THAT SUPPOSE TO BE PAID BY STUDENTS PLEASE BE WARNED STUDENTS WE ARE HERE TO HELP YOU FOR ADMISSION +COURIER +VISA SUPPORT LETTER +VISA MONITORING IN EMBASSY & FINAL ARRIVING TO UKRAINE AND HOSTEL PLACING WITH SCHOOL REGISTRATION . OFFERING SCHOLARSHIPS OR ASKING FOR UPFRONT SCHOOL TUITION PAYMENT WE CLARIFY THAT STUDYING IN UKRAINE IS TOTALLY BASED ON SELF-FINANCE SYSTEM AND NO PART OR FULL SCHOLARSHIPS ARE GIVEN TO FOREIGN STUDENTS. THERE ARE LIMITED JOB OPPORTUNITIES FOR FOREIGN STUDENTS, THEREFORE A FOREIGN STUDENT NEEDS TO BEAR ALL EXPENSES HIMSELF OR HERSELF OR DEPEND ON THEIR PARENTS OR SPONSORS FOR TUITION FEE AND LIVING EXPENSES. ADMIN