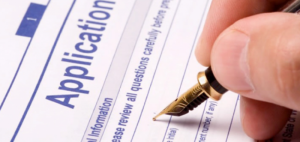 STEP 1
In order to get admission  to study in the Ukraine you must apply for an Invitation Letter. You can apply online ordownload and fill in the form and include the following details:
• Full Name
• Desired course
• Desired university-We'll help you choose the most suitable university for you.
• Nationality
• Date of Birth
• Passport No
• Permanent address
• Telephone contact no
• Email address
• A high quality scanned copy of your passport
• Educational documents available ( Certificate of O level/A level /SSCE/ HSSCE/Bachelor/Master's )
STEP 2
After reviewing your application, a student will be required to go to any D.H.L office in his|her country to pay for the postage of the invitation(postage fees vary from one country to another )there after the student must send us on mail the receipt payment for the postage of his|her invitation,address and full names of the person going to receive the invitation letter, and phone number
Invitation letters will be SENT strictly upon DHL payment
NOTE:
Free invitations are only eligible for students applying for the following courses:
‣Medicine
‣Pharmacy
‣Nursing
‣Dentistry
‣Computer Science
‣Computer Engineering
‣International Economics
‣Management
‣Civil Engineering
‣Mechnical Engineering
‣Preparatory Course
STEP 3
Upon receiving an invitation letter, the student will contact the Ukraine embassy in his / her country in order to
apply for the student visa.
Note: Most Ukrainian embassies usually accept student visa applications and issue student visas throughout
the year. In some countries the embassy starts accepting visa applications and issues visas between 15th July
and 15th November. Extensions in these cases are made for the preparatory course until November or
December.
The following documents should be submitted to the Ukrainian embassy as part of the visa application process:
• A filled visa application form
• International passport valid for one year or more
• Original invitation letter from the college
• Birth certificate – Translated into Ukrainian.
• Note: The translation is done at the Ukrainian embassy at a small cost (usually between $60-$85).
• Original School Certificates – Translated into Ukrainian.
• Medical Certificate-Issued within one month of visa application and is translated into Ukrainian. This must
be an approved document by the health ministry in your country.
• HIV-AIDS negative certificate- Issued within one month of visa application and translated into Ukrainian.
This must also be an approved document by the health ministry in your country.
• One year health insurance-For some countries the insurance required is only for the traveling period.
• A bank statement from the sponsor to prove their financial ability to bear the student's expenses in Ukraine.
If the sponsor is not the student or their parent, a sponsorship letter is going to be required.
• 12 passport size pictures (3 * 4 cm)
• An open return air ticket valid for one year
After getting the visa e-mail us the scanned copy of the documents in the list above.
NB: Ensure you have all the required documents before leaving your country. Entry into Ukraine will be denied if
you're missing an important document.
We'll assist you with the airport pickup and transfers from the international airports in Ukraine i.e. Borispol
International Airport or Lviv Danylo Halytskyi International Airport. You must inform us before or after booking the ticket so that we can arrange for the pickup,hence Kindly email your  ticket copy  a week prior to your arrival
Important Notice: NO FREE ADMISSION LETTER , AND FREE SCHOOL - DONT ASK FOR SCHORLASHIP - WE DONT HELP TO MAKE INTERNATIONAL PASSPORT.
THE Tuition fee Grand Total is payable When you arrive except ADMISSION + Courier + VISA SUPPORT LETTER FEES to send the original invitation letter through DHL, TNT, FedEx or EMS. The Above amout payable through bank transfer swift or western union/ money gram , parfect money , paypal or bitcoin . Transaction fee paid by the student sender so that we receive full amount.
Mind you No hidden or extra expenses, above fee total package is for the cheapest tuition fee and accommodation at ((Ukraine government university)) . The fee total package will be considerably high in other universities.
OUR COMAPANY - STUDYINUKRAINE.SITE cooperate with only (((UKRAINE State Owned,- UKRAINE National and Worldwide recodnized universities of Ukraine. Above total package is for a recognized Techcal university with cheapest fee and miscellaneous expenses .FOR THE FIRST YEAR ONLY.
WARNING - OFFICIAL NOTICE FROM ADMIN TO STUDENTS ARROUND THE WORLD PLEASE DO NOT TRUST ANY FIRMS OR UNIVERSITIES IN UKRAINE INVITING AND GIVING/OFFERING FREE ADMISSION OR INVITATION AND LATTER ASKING FOR 100$ FOR DHL - TNT, FedEx or EMS , THEY ARE USING THIS TO CHEAT AND TRAP STUDENTS AND WHEN STUDENTS ARRIVE TO UKRAINE THEY TAKE HUGE AMOUNT OF FEES FROM THEM INCLUDING – THE ADMISSION FEE THEY ARE CLAIMING IS FREE AND EVEN THEY TAKE 3TIMES OF THE NORMAL TUITION FEES THAT SUPPOSE TO BE PAID BY STUDENTS PLEASE BE WARNED STUDENTS WE ARE HERE TO HELP YOU FOR ADMISSION +COURIER +VISA SUPPORT LETTER +VISA MONITORING IN EMBASSY & FINAL ARRIVING TO UKRAINE AND HOSTEL PLACING WITH SCHOOL REGISTRATION . OFFERING SCHOLARSHIPS OR ASKING FOR UPFRONT SCHOOL TUITION PAYMENT WE CLARIFY THAT STUDYING IN UKRAINE IS TOTALLY BASED ON SELF-FINANCE SYSTEM AND NO PART OR FULL SCHOLARSHIPS ARE GIVEN TO FOREIGN STUDENTS. THERE ARE LIMITED JOB OPPORTUNITIES FOR FOREIGN STUDENTS, THEREFORE A FOREIGN STUDENT NEEDS TO BEAR ALL EXPENSES HIMSELF OR HERSELF OR DEPEND ON THEIR PARENTS OR SPONSORS FOR TUITION FEE AND LIVING EXPENSES. ADMIN