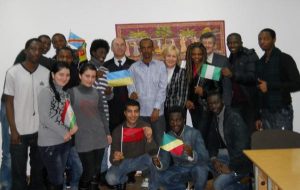 AGENTS / REPRESENTATIVE ARE  NEED  FROM ALL  OVER THE WORLD
The following organizations Listed have been granted rights & Opportunity to represent WWW.STUDYINUKRAINE.SITE .   " UKRAINE EDUCATIONAL ADVISORY SERVICE . Students from these designated countries are requested to contact these organizations directly for more information. We work closely with Educational Advisers and Representatives, who are able to provide you with additional information about WWW.STUDYINUKRAINE.SITE . " UKRAINE EDUCATIONAL ADVISORY SERVICE  STUDY IN UKRAINE PROGRAM and give you helps ON
HOW TO APPLY ,SCHOOL /HOSTEL FEES- CHOSE OF COURSES ,ADMISSION,VISA & ARRIVAL TO UKRAINE  and Lots Of  Advices. If you have a query then you can either fill up the online form below or get in touch with the authorized representative in your country. As LISTED BELLOW BUT MAKE SURE YOU CONTACT WWW.STUDYINUKRAINE.SITE .   " UKRAINE EDUCATIONAL ADVISORY SERVICE  OFFICE TO VERIFY THE AGENTS AS WELL IN CASE OF TERMINATED AGENT THAT HAVE NOT BEEN CHANGED ON OUR WEB  .
(WE ARE STILL WORKING HARD TO GET THIS PROGRAM IN YOUR COUNTRY AS WELL TO PROVIDE THIS OPPORTUNITY TO  INTERNATIONAL STUDENTS IN YOUR COUNTRY
REPRESENTATIVES ARE STILL  Required in   UK,USA,JORDAN , KENYA ,MALDIVES , SRI LANKA , IRAN PAKISTAN , Indonesia, THAILAND , Philippines, South Africa, Namibia, Botswana, Sudan Libya, Egypt, Ethiopia, Yemen, Oman, UAE, Mali, Zambia, Zimbabwe,Lesotho, Yemen, Brazil, Cuba, Venezuela, Peru, Bolivia, Paraguay )

OUR OFFICIAL AND AUTHORIZED
REPRESENTATIVES  SINCE 2000
IRAN /IRAQ , Islamic republic Of Persian (Arabian) Gulf  only our Official AGENT
Iran,west azarbaijan,urmia,hassani ave,urshad tower, 7th Floor  , NO33
mohajer yare sina
Contact MR Sina mirzaei
COUNTRIES.
ABUJA CENTRE
FOR  ADMISSION & VISA PROCESS PAYMENTS
 AOSIS  AERO  SERVICE  (REGISTRATION NUMBER  -RC 1326588 )
Study In Ukraine : Abuja Office address
Extension suit B14. Efab Shopping Mall, Area 11, Garki Abuja
Contact No:
08028979934 and 08034867170,
USA CENTRE
 

if you are in usa



 1522 Plantation Grove Ct Plant City,FL 33566.
Call- Ph: +1813-362-9365
SOUTHERN AFRICAN COUNTRIES
                STUDENT FROM   Botswana, Zambia, Zimbabwe, Lesotho, Madagascar, Mozambique,  Namibia, Swaziland
CONTACT FOR ADMISSION AND VISA HELP
STUDYINUKRAINE OFFICE
231 sekelgras street. Danville. Pretoria west.
NIGERIA CENTRE
IBADAN
 BEST-TECH EDU CONSULT
MUSIC HOUSE , CHALLENGE, –
FRESH FM 105.9FM:
IBADAN
Contact –  07037528764
MR ADEDAMOLA OLOFA
PORT HARCOURT – RIVERS STATE
Mesoyios Global Services (MGS)
Chaza Mall, 1st floor @No.1A Azeez
Str. Ada-George by Mini-Orlu Junction Off Location NTA Road,
Port Harcourt, Rivers State, Nigeria.
Tel: 

LAGOS STATE 
GLOBAL EDUCATIONAL CONSULT 
Write to admin for admission and visa
MEMORIAL MEDICAL HOSPITAL
 CONTACT DR

CONCEPT EDUCATIONAL INSTITUTE
41 DIVINE GRACE PLAZA, OKE AFA,
JAKANDE GATE,ISOLO, LAGOS.
———————————————————————————————-
PSALMZ TRAVEL office –  adress mini shop 5
Tafawa balewa square bulding after obalende ,
Lagos island Lagos state
NUMBER –
——————————————————–
IBADAN
 BEST-TECH EDU CONSULT
MUSIC HOUSE , CHALLENGE, –
FRESH FM 105.9FM:
IBADAN
Contact –  07037528764
MR ADEDAMOLA OLOFA
IBADAN
NIGERIA Study in Ukraine ADMISSION OFFICE
Contact Address
– WHITE HOUSE
OPPOSITE MOBIL FILLING STATION,
NEW IFE ROAD,
IBADAN.
CALL
EMAIL : [email protected]
I

BADAN  CENTRE  2 
OYO STATE/  OKE OGUN  
Address: Hill Crest Estate, Odoomu area, Iseyin, Oyo State, Nigeria
CONTACT MR TAJUDEEN :
GHANA CENTRE
MR
stephen
Plot 36A Blk D, New Apatrapa Kumasi
For house
Address
Church of Christ
P.O.Box Ks 12019
Adum -Kumasi
Ghana
Call
———————————————
CONCEPT EDUCATIONAL INSTITUTE
HOUSE NUMBER C1-140, LAKESIDE ESTATE,
ASHLEY BOTWE, MADINA,
GREATER ACCRA.
protos safeway travel consultant.
Address:c/DHL main office
Eastern empire building
Koforidua .eastern region
Ghana west Africa
FOR    ZIMBABWE   STUDENTS
UKRAINE EDUCATION ADVISORY AND ADMISSION CENTRE
contact  – zbs 2031 vengree Township Rusape
CONTACT  US –
GAMBIA 
Sanyang Consultancy Center.
No:17 Serign Mass Avenue Serrekunda
West Kanifing Municipality
The Gambia
West Africa
Tel.
ALGERIA CENTRE
OUR EXCLUSIVE AGENT IN * ALGERIA AND ENVIRONS
– Agence de Communication
General Manager
Mr Chendouh Rabah
Tel:
Tamokra, Akbou province, wilaya of Bejaia, Algeria
Consultant International on Communi
INDIA CENTRE
DEAR PROSPECTIVE STUDENT THAT WANT TO STUDY MEDCINE IN OUR UNIVERSITY FROM COUNTRIES LIKE  :
India, Sri Lanka, East-UAE, Kenya, Uganda, Saudi Arabia, Oman, Bahrain AND OTHER Neighboring countries ETC
OUR OFFICIAL CO-ORDINATOR
COUNTRY IS INDIA
CONTACT
TANZANIA CENTRE 
Abroad Connected Education Ltd
P.O.BOX 1082 KIGOMA
TANZANIA
MISS FELISTER MORUNGU
ES SALAAM
HONEYBADGER TOURS
Dar es Salaam
CAMEROON CENTRE 
Douala Office. BP  6013 ,Littoral Region
       

Malaysia
   Kuala Lumpur 50400,
VIETNAM
ADDRESS: 87 Tran Quoc Toan, District 3, Hochiminh City, Vietnam
CONTACT:
MR Nguyen Trong Nghia
Important Notice: NO FREE ADMISSION LETTER , AND FREE SCHOOL - DONT ASK FOR SCHORLASHIP - WE DONT HELP TO MAKE INTERNATIONAL PASSPORT.
THE Tuition fee Grand Total is payable When you arrive except ADMISSION + Courier + VISA SUPPORT LETTER FEES to send the original invitation letter through DHL, TNT, FedEx or EMS. The Above amout payable through bank transfer swift or western union/ money gram , parfect money , paypal or bitcoin . Transaction fee paid by the student sender so that we receive full amount.
Mind you No hidden or extra expenses, above fee total package is for the cheapest tuition fee and accommodation at ((Ukraine government university)) . The fee total package will be considerably high in other universities.
OUR COMAPANY - STUDYINUKRAINE.SITE cooperate with only (((UKRAINE State Owned,- UKRAINE National and Worldwide recodnized universities of Ukraine. Above total package is for a recognized Techcal university with cheapest fee and miscellaneous expenses .FOR THE FIRST YEAR ONLY.
WARNING - OFFICIAL NOTICE FROM ADMIN TO STUDENTS ARROUND THE WORLD PLEASE DO NOT TRUST ANY FIRMS OR UNIVERSITIES IN UKRAINE INVITING AND GIVING/OFFERING FREE ADMISSION OR INVITATION AND LATTER ASKING FOR 100$ FOR DHL - TNT, FedEx or EMS , THEY ARE USING THIS TO CHEAT AND TRAP STUDENTS AND WHEN STUDENTS ARRIVE TO UKRAINE THEY TAKE HUGE AMOUNT OF FEES FROM THEM INCLUDING – THE ADMISSION FEE THEY ARE CLAIMING IS FREE AND EVEN THEY TAKE 3TIMES OF THE NORMAL TUITION FEES THAT SUPPOSE TO BE PAID BY STUDENTS PLEASE BE WARNED STUDENTS WE ARE HERE TO HELP YOU FOR ADMISSION +COURIER +VISA SUPPORT LETTER +VISA MONITORING IN EMBASSY & FINAL ARRIVING TO UKRAINE AND HOSTEL PLACING WITH SCHOOL REGISTRATION . OFFERING SCHOLARSHIPS OR ASKING FOR UPFRONT SCHOOL TUITION PAYMENT WE CLARIFY THAT STUDYING IN UKRAINE IS TOTALLY BASED ON SELF-FINANCE SYSTEM AND NO PART OR FULL SCHOLARSHIPS ARE GIVEN TO FOREIGN STUDENTS. THERE ARE LIMITED JOB OPPORTUNITIES FOR FOREIGN STUDENTS, THEREFORE A FOREIGN STUDENT NEEDS TO BEAR ALL EXPENSES HIMSELF OR HERSELF OR DEPEND ON THEIR PARENTS OR SPONSORS FOR TUITION FEE AND LIVING EXPENSES. ADMIN