NATIONAL UNIVERSITY OF PHYSICAL EDUCATION AND SPORT OF UKRAINE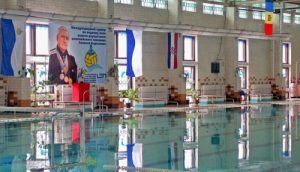 NATIONAL UNIVERSITY OF PHYSICAL EDUCATION AND SPORT OF UKRAINE
Founded in 1930
International Students since 1955
State-Run Institution
The National University of Physical Education and Sport of Ukraine takes a prominent place in the international system of physical education and sports science. During the years of its existence it has turned out into branched scientific, educational and sports complex, well-known in the world.
The students of the University obtain deep knowledge in various general and special disciplines which allows them to become skilled teachers of physical education, coaches, specialists in rehabilitation and recreation physical culture or managers at different levels of sports system.
Those graduates gifted for research work are provided with opportunity to deepen their fundamental and applied knowledge and become scientists specializing in such aspects as the Olympic and professional sports, physical culture and physical education for different population groups, physical rehabilitation, etc.
Educational process at the University has organic and harmonious integrity with scientific studies in wide and various aspects. The results obtained are efficiently implemented into practice in numerous areas. Specialists of the National University of Physical Education and Sport of Ukraine cooperate successfully with their national and foreign colleagues. Friendly and business-like contacts result in fruitful and mutually beneficial cooperation with not only related higher educational institutions of different countries but also with the International Olympic Committee, International Olympic Academy, etc.
Our University has prepared a great number of outstanding athletes known as the winners of the Olympic Games, World and European Championships, major international competitions.
Training process is planned and realized on the basis of the latest scientific and scientific-methodical elaborations.
Scientists of the University actively participate in international congresses, symposia, conferences held in different countries as well as host foreign guests partaking in the same scientific forums.
In 1955 the institution began to admit foreign citizens for training in physical culture and sport. Diplomas in higher education were obtained by 1500 foreigners from 50 countries, including Algeria , Angola , Afghanistan , Bulgaria , Vietnam , Venezuela , Greece , Israel , India , Iran , Cyprus , China , Columbia , Costa-Rika , Cuba , Lebanon , Mozambique , Mongolia , Nicaragua , Peru , Poland , Sierra-Leone , Thailand , Tunisia , Hungary , Finland , Croatia , Sweden , etc.
At the National University of Physical Education and Sport of Ukraine there is a Preparatory Department for International Students (Pre-admission course) where they may study Ukrainian/Russian, physics, chemistry, biology, mathematics and other subjects depending on the chosen field of instruction, pass tests and examinations and receive the Certificate on completing the course.
You may arrive in Ukraine having a special invitation for studies in our country issued by the University.
Information on educational services provided by our University in 2007-2008 academic year for international students and their costs, as well as the list of the documents which are required to submit for enrollment at the Preparatory Department follow.
I N T E R N A T I O N A L S T U D E N T S' T R A I N I N G
Preparatory Department in Ukrainian and Russian (10-months course)
Bachelor's Degree in Physical Education, Sport and Human Health (4-year course)
Faculty of Physical Education, Physical Rehabilitation and Valeology;
Faculty of Olympic and Professional Sport
Master's Degree (a 1-year course) in specializations:
Olympic and Professional Sport;
Physical Rehabilitation;
Physical Education
Post-graduate Ph.D. course (a 3-year course)
Tuition Fees per Academic Year are paid in UHR (hostel accommodation included) in the sums corresponding to:
Preparatory Department (1 year) – 2900 $US (including accommodation)
Bachelor's Degree (4 years) – 1700 $US
Master's Degree (1 year) – 1700 $US
Ph.D. course (3 years) – 2500 $US
List of essential documents required to study at the Preparatory Department (Pre-admission course):
Copy of a certificate on secondary education and record of the marks received;
Medical certificate on AIDS test;
Medical certificate on health status issued by an official heath protection body of the country the entrant comes from not later than 2 months prior to their arrival to Ukraine ;
Copy of a birth certificate;
8 photos 60 x 40 mm ;
Return ticket to home country with an open date flight up to one yea
Listing Details
Olympic and Professional Sport;